Meaningful Marketing with Urban Value Partnerships
This article is about connecting and inspiring brands, governments and citizens. Urban Value Partnership is a new phenomenon in the Out of Home (advertising) market.
There's a new evolution in marketing that's about improving customers' lives. It's called meaningful marketing or marketing with meaning. Meaningful Marketing is marketing and communications with a focus on authenticity and content – from broadcast to connect. Sending messages alone is no longer enough; people decide what appeals to them and what is not. Marketing is changing permanently – a beautiful movie about the changing relationship between the advertiser and the consumer can be found via this link. A movie that is already six years old, but still relevant.
Urban Value Partnerships plays in the development that brands are more social, governments are more open to commercial partners and citizens take more responsibility. A portion of the advertising budget can be spent on developing, improving and better managing our environment. Improvements immediately bring benefits to public space; the people who use them and the partners are contributing.
Mr Thijs Verheugen of Posterscope is convinced that Urban Value Partnerships will have huge impact for brands and the society in the future. He even expects this will be one of the most important developments for the advertising industry for the next ten years. This article is based upon a symposium organized by Posterscope in December 2013. Concepts were presented about providing a direct service to the 'public domain' via brands.
Cleanpicnic.nl
Thijs Verheugen is not only active in this business, but he is also an entrepreneur. CleanPicnic supplies picnic rugs to use in parks. The advantages are obvious:
Makes clean-up easier and more fun;
Produces less waste and clean-up costs;
Creates a cosy picnic atmosphere;
Keep parks clean.
Peter Vos, park manager of the Vondelpark in Amsterdam says the following: "It works! Visitors respond very positively to the rug, and the next day the bins were filled with used CleanPicnic waste bags. I am very enthusiastic about the initiative."
80 % of the surface is printed in the desired corporate colours. The other 20 % is reserved for commercial usage. CleanPicnic responsible for the design, production and delivery of the rugs.
Maurice Constable – District Administrator District West / Westerpark: " Due to the rugs I have fewer staff in the park. That saves me a lot of money on an annual basis."
Adopted Square (Arnhem Bartok Park , in collaboration with Burgers Zoo)
On the occasion of the 100th anniversary of Burgers Zoo, a massive sculpture was donated to the city as a celebration as well as a sign of the strong commitment of the zoo to the city. See picture on the first page.
A blind spot in the centre of Arnhem has been transformed into an icon for the city. A piece of National Park "De Hoge Veluwe' with a gigantic aardvark (an image of the famous artist Florentine Hofman) form a vibrant place where until last year was a vacant lot bordered by fences. Initiated by landscape architect Harro de Jong this formerly desolate terrain made way in 2012 for a pop -up park. They came up with this branch of the National Park in the city centre. One thing led to another. Burgers Zoo was in 2013 100 years and donated Arnhem visual art of Florentine Hofman. He had his eye on the Bartok Park. It is therefore doubled in size in 2013 and refurbished to suit the aardvark. A quarter acre Hoge Veluwe is literally transplanted to the city. Nature comes in Bartok Park so very literally into the city, and at this bed of heather and white sand is the 30 m long party aardvark to rest – a spectacular playground for young and old.
Through this park Burgers Zoo manages to strengthen its relation with the city. Nowhere do we see prominently the name of Burgers Zoo, but almost every inhabitant will associate it with the zoo and the Hoge Veluwe.
Dog poo provides relief (Sparks Park Project, 2010)
(source: www.wired.com, author: Olivia Solon)
Artist Matthew Mazzotta is using dog feces to power lampposts in a park in Cambridge, Massachusetts. Mazzotta's Project Park Spark, which was funded through MIT and created in partnership with the City of Cambridge, comprises a special "methane digester" that converts freshly scooped poop into methane.
Dog owners collect their dog waste in a special biodegradable bag and throw it into the digester –- an air-tight cylindrical container, where the dog feces are broken down by anaerobic bacteria. A byproduct from that process is methane, which can then be released through a valve and burnt as fuel. In this case it is being used to power an old-fashioned gas-burning lamppost in a park.
The artist is keen to make sure that the energy is used as the community wishes, and so in the next couple of weeks the Park Spark project will be a holding a number of design meetings to gather ideas from the community for how to best use the flame. Suggestions already include a shadow-projection box, a popcorn stand and a teahouse.
Currently when organic material (including dog waste, food and plant matter) goes into landfill, it releases methane into the atmosphere. Methane is a potent greenhouse gas that is approximately 23 times more harmful than carbon dioxide.
When it's burned in the presence of oxygen, it separates into carbon dioxide and water vapor, so businesses can actually earn carbon credits from burning off excess methane. As a result, the digesters are a good way to collect and use the volatile gas as a fuel.
As far as known to us, there are currently no commercial parties involved, but there are plenty of opportunities for this.
Dog poop (poop bags Pedigree bus shelters, 2012)
For the month of March (2012), dog walkers did not had to worry if they forgot to bring poop bags to Trinity Bellwoods Park, in Toronto, Ontario, thanks to Pedigree® bus shelter campaign. To help promote Pedigree® Proximity BBDO in Toronto developed the first-ever bus shelter ad that also dispenses poop bags. The idea was simple: When it comes to healthy digestion, the proof is in the poop. People walking their dog can grab a bag and put it to use. Most importantly, they can also give some thought to the quality of their dog's "back end performance" while doing so.
It's a great reminder to not forget using low technology media vehicles as part of your creative and media strategies.
IBM Smart ideas for smarter cities (2013)
Billboards are everywhere, so why not have them do something useful? That's the thinking behind IBM's new "Smarter Cities" campaign, which modifies the regular billboard shape to perform a secondary function. As shown in a promotional video created by the ad company responsible for the posters, a simple curve at the top or bottom of a billboard can create shelter or seating for passers by, while a ground-level protrusion can form a ramp to help people climb stairs.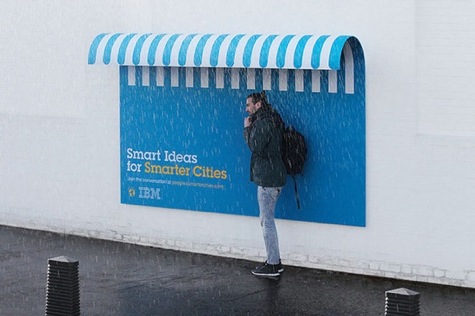 The ads are supposed to spark people to join in with IBM's People For Smarter Cities initiative, which looks for citizens' ideas on how to make cities a better place to be in. Of course, the billboards are just a PR stunt, but after being viewed online by over 50,000 people in a matter of days, they're a highly effective stunt.
IBM believes that infrastructure, operations and people make a city, that a city is an interconnected system of systems, and that smarter cities drive sustainable economic growth and prosperity for their citizens. As demands grow and budgets tighten, solutions also have to be smarter and address the city as a whole. Plus, the better the health of a city's citizens, the stronger is its economic vitality.
It was interesting to read an online comment: "I feel like an advertiser improving a public space is totally different than an advertiser buying ads against improvements in public space."
The idea has won Ogilvy and Mather a Grand Prix award at the Cannes Lions Festival; the billboards were located in London and Paris.
Dial Direct Potholes (South Africa , 2011)
According to Dial Direct Insurance the increasing number of potholes, which are growing in size as fast as they are multiplying, are firstly a safety hazard and, what many people don't realise is that even the slightest encounter with a pothole can knock the wheel alignment out, causing unpleasant consequences further down the line.
In the interest of public safety and urban pride, Dial Direct's Pothole Brigade is proactively filling potholes in South Africa using an innovative technology. Dial Direct is all about providing simple, smart insurance solutions and the Pothole Brigade follows suit by offering a simple, smart solution to a problem that affects us all. This initiative could also eliminate unnecessary claims on motorist's car insurance policies and save motorists money in the long run, says Dial Direct.
Green walls
A green wall is a wall partially or completely covered with vegetation that includes a growing medium, such as soil. Most green walls also feature an integrated water delivery system. Such walls may be indoors or outside, freestanding or attached to an existing wall, and come in a great variety of sizes. As of 2012, the largest green wall covers 2,700 square meters.
Green walls are found most often in urban environments where the plants reduce overall temperatures of the building. The primary cause of heat build-up in cities is insolation, the absorption of solar radiation by roads and buildings in the city and the storage of this heat in the building material and its subsequent re-radiation. Plant surfaces however, as a result of transpiration, do not rise more than 4–5 °C above the ambient and are sometimes cooler.
Living walls may also be a means for water reuse. The plants may purify slightly polluted water by absorbing the dissolved nutrients. Bacteria mineralize the organic components to make them available to the plants.
Living walls are particularly suitable for cities, as they allow good use of available vertical surface areas. They are also suitable in arid areas, as the circulating water on a vertical wall is less likely to evaporate than in horizontal gardens.
The living wall could also function for urban agriculture, urban gardening, advertising, or for its beauty as art.
Bus shelters
This Urban Value Partnership was not mentioned at the conference, but should be considered in our view as the most important development of the last 50 years.
In 1962, French outdoor company JCDecaux introduced the bus shelter. A popular outdoor venue since its debut, bus shelters are built at no cost to municipalities and rely on ad revenue for their upkeep.
Bus shelters were once boringly functional affairs, built solely by local councils. Some were iron-and-glass edifices covered in peeling municipal green paint; others were made of brick; some in rural areas even had thatched roofs. The ads were displayed in "6-sheet" panels whether they adorn shelters or other places like supermarkets and motorway service stations.
Bus-shelter ads really started to boom in the 1980s. Market research revealed an impressive awareness of this imaginary product among the public – and since it could only have come from bus shelters, it proved the value of advertising in them.
Sponsored roundabouts
A unique, green and cost-effective way to promote your business to tens of thousands of people – all day, every day. Sponsoring a busy highway roundabout will help you:
Stand out from your competitors
Enhance the local environment for residents and visitors alike
Generate media interest and get the whole area talking
An exciting initiative. Sponsoring a roundabout is an effective marketing tool and also helps to improve the environment says Nick Rushton, Deputy Chairman, Leicestershire County Council (UK). "We help Local Authorities":
Promote the benefits of sponsorship to local businesses
Provide sponsors with the best location depending upon their needs and budget
Improve the appearance of their local highways environment
Money raised is used to maintain the roundabout and make other environmental improvements
CONCLUSIONS
Urban Value Partnerships are developed in more and more areas: companies work together with public organizations to solve a particular problem or improve the environment. Companies are able to communicate with their target groups and governments in a new way to reduce costs in creative ways. It is one of the most important developments in the media world as Thijs Verheugen expected? We are for sure that there are countless opportunities.
« Well, I mostly disagree with the previous answer; in that I do | Home | Now maybe Democrats have extended a lead »