Blog
2019 is almost over, so it is a good opportunity to name a number of important events in our field. For those who don't read the entire article: we wish you happy holidays and a healthy and successful new outdoor advertising year.
Media spending continues to rise
Although there are no figures yet for media spending in 2019, we have the strong impression that 2019 was a particularly good year for most operators. The economy continued to grow and outdoor advertising grew with it. The share of 2m2 advertising ("abri advertising") remains high (around 60% of all spending), but advertising towers also remain an important medium in the Netherlands.
Digital in top gear
Where other media still suffer from online spending, OOH can benefit from the rapid growth of digital objects. Along motorways, but also in cities, we see more and more digital advertising forms. Every place where many people come and / or stay for a longer time has become hubs full of screens. Advertisers can therefore use outdoor advertising better and more targeted.
In Amsterdam CS Digital Media provided two metro lines with high-quality digital screens, JCDecaux is busy building up the digital screens in Rotterdam and The Hague and Clear Channel (together with RBL Outdoor) has provided Utrecht with various larger and smaller digital screens.
Along motorways, analogue advertising masts are still being converted to LEDs, smaller municipalities are being given digital information signs along approach roads and even pylon advertising is now partly done digitally in Rotterdam, Utrecht and Amsterdam.
Regulations under development
The growth of digital also requires better regulation. With regard to light intensity, most municipalities apply the NSVV policy (national light institute). Discussions are being held about allowing moving images and animation. Amsterdam has even banned the use of moving images, precisely to create tranquillity in public spaces. In most cities, however, moving images are permitted in pedestrian areas.
Operators, media agencies and advertisers have written a nice and clear position paper about digital out-of-home through the IAB. But there is still no clear connection with regulations from the government / municipalities. Here we can still explore and gain ground.
Sedum sedum and even more green roofs
The placement of bus shelters in Utrecht with sedum was initially without much attention, but after publications in international newspapers and insta-posts of influencers (Doutzen Kroes e.g.) it turned out to have been a golden hold. Bees have been given a house in the city, the busshelter turned out to be a means to show sustainability and citizens are happy with a green roof. Utrecht was overwhelmed with national and international attention (recently even received a prize). Many municipalities now also want sedum in the bus shelters. The shelters in the cities Nieuwegein and Gouda and province of Utrecht will soon be provided with green roofs and we expect that many more cities will follow.
Analog billboards are being replaced by digital 6.5 m2 LED screens
Outdoor advertising operators have suffered large losses on analogue billboards for years. Advertisers left the medium, but contracts with high payments continued for years. Most contracts have since expired. We are now cautiously seeing growth again in billboards. But then in a digital form and usually standing ("portrait"). Operators can also easily place campaigns in the 2m2 format. We expect that more and more cities will get this type of objects. They are already in Rotterdam, The Hague, Utrecht, Amsterdam, and will be installed in Ede, Almelo and Diemen next year.
Growth and consolidation among operators
We sometimes say never a dull moment in operator country at NABBNET. We find the rapid growth of Hillenaar Outdoor striking. Jeroen Hillenaar and colleagues started again a few years after their departure from Clear Channel (that they originally started) and have since built up a substantial position. Suurland Outdoor has been sold to a private investor and Centercom has purchased a digital operator of billboards (company 'Bereik'). Exterion Media bought the tank network of MMD Media.
The most important and largest acquisition took place by the English company Ocean Outdoor. This digital giant simultaneously bought Interbest Advertising Masts and Ngage Media. We estimate that this company, after Exterion Media and JCDecaux, has since taken over the third place from Clear Channel (in terms of turnover).
Dutch Railways loses court case
Many years ago JCDecaux started proceedings against the Dutch Railways, because the European rules for public procurement would not have been followed. After years of proceedings, the Court ruled in favour of JCDecaux on the most important points. In other words, the NS should have tendered. The court ruling has major consequences: from 1 December all advertising displays at the stations will be "empty". That means white boxes in the analogue display cases and the digital advertising display cases are black, which means that the current operator (Exterion Media) is no longer allowed to sell this attractive medium for advertisers.
Sad loss of a few important outdoor advertising people
We unexpectedly lost three men this year: René Bubberman, designer of a particularly large number of shelters, Jan Wichers, co-owner of Hillenaar Outdoor and Michael Hoffman, owner of Hoffman Outdoor Media.

Mainly made up of sedum plants, a total of 316 bus shelters have been covered in greenery in Utrecht. The bus shelters not only support the city's biodiversity, such as honey bees and bumblebees, but they also help capture fine dust and store rainwater.
In 2018 the contract with JCDecaux ended and after a tender (City Outdoor Advisors acted as consultant) the new contract was awarded to RBL Outdoor. This Dutch outdoor company delivers high quality street furniture to various cities in the Netherlands in a joint effort with Clear Channel (this companies is responsible for advertising sales). In total approximately 500 new bus shelters have been installed. Part of the contract are also >150 free standing 6-sheet units (including more than 20 digital units) and 10 digital billboards.
RBL Outdoor has fitted its 316 bus stops in Utrecht — Holland's fourth-largest city— with succulent-covered roofs, LED lighting, and bamboo benches. The green roofs are mainly composed of sedum plants, which require little maintenance. The roofs (of course also the rest of the bus shelters and advertising panels) are looked after by workers who drive around in electric vehicles.
The project has got attention from news media and cities around the world. Especially the attention for the bees became an interesting selling point.
The green bus stops are just one measure that Utrecht is taking to combat climate change. They've also pledged to have completely carbon-neutral transport by 2028 and they'll introduce 55 electric buses into their fleet by the end of 2019. The province has also invested heavily in the repair of cycling paths and will conduct an innovative experiment in 2020. Solar panels installed along cycling paths within the province will be used to harvest energy, with an aim to see if the results merit expansion of the program.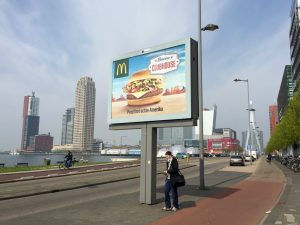 The year 2016 will be remembered as a commercial good year in the Dutch OOH industry. The growth of advertising euro/2m2 format continues and digital developments are going faster than ever. Yet there is a dissonance: THE BILLBOARDS. In recent years, the turnover of this medium has already dropped dramatically, also resulting in a dramatic decrease in interest to exploit these objects.
In 2015 billboards were removed from the city The Hague. One of the largest operators of billboards, Exterion Media, will remove all billboards from Rotterdam by the end of 2016. In recent years, the number of billboards has been greatly reduced (from 85 to 40), but the last 40 will now disappear completely.
The reasons for the decline in the billboard market are diverse:
Until the crisis of 2008/2009 were the largest advertisers automotive and financials; these advertisers have greatly reduced their spending and it proved very difficult to find alternative advertisers
the success of advertising on the size 2m2, with the portrait format fits existing digital communications
advertisers want to sit closer to the point-of-sale (and billboards are still there usually further from)
Although the outdoor research shows that billboards score well (big impact with high range), it appears that emotional considerations also play a large role in the choice of media.
Only a few digital billboards are placed in the Netherlands at this moment. Operators and advertisers are enthusiastic, so we expect that a conversion will take place in the coming years from analogue to digital.
As you get used to new dentures, add other foods until you return to a normal diet. Be cautious with hot or hard foods and sharp edged bones or shells. And, avoid foods that are extremely sticky or hard. It appears Barham wife spotted a text message to him on his Apple watch. The message said, was a stupid flying(sic) we should have never done this. I going to lose my job for having sex with you at school.
I have always been, and continue to remain, opposed to a city income tax that is premised on transferring the tax burden from commercial property owners to resident and non resident working families. Furthermore, I do not trust the administration grossly exaggerated income tax revenue predictions as they are based on the administration assertion that over 70,000 commuters work at jobs within the city. This assertion is clearly flawed as it is based on extrapolated data from the year 2000 and most obviously does not account for the significant loss of jobs resulting from the closure of Pfizer or the state worst recession since the Great Depression..
Things may not change significantly for McCain but there is time for that to happen, if McCain finds the right voice. Haley Barbour, the governor or Mississippi and former chairman of the Republican National Committee, likes to say, nothing is ever as good or bad as it seems. That's what has to propel McCain at this moment..
canada goose outlet It's changed tremendously. I'm very fortunate that I was able to get a franchise. I think if I had to go through the process that's in place today for most franchises 32 years ago, I probably wouldn't be having this conversation. I was also very curious how they managed to get my "fixed" somehow via a simple software patch. So of course my car is still polluting over the limit. And I think this is a story that isn getting the coverage it needs.
https://www.casatualifestyle.com Apart from imitating a grand piano, this keyboard excels as a learning tool. It is packaged with the "Yamaha Education Suite" which includes 100 songs 30 built in, and 70 more on an included CD ROM. With just a push of a button you can play along and learn and strengthen your independence; the songs are separated into right and left hand parts.
canada goose outlet "Mr Sidebottom said they had felt betrayed by Wendy Horrocks as they trusted her. He said it was a family business and the workers feel like part of this family and this incident had raised suspicion. He said although the company hadn been financially crippled, it had had a serious impact on the business and if it had gone on longer it would have been much worse.".
But although you may see a physician, most dentists have been trained to treat the early stages of TMD. In most cases, they would likely be a better option. For another option, you may want to ask your doctor or dentists for a referral to someone trained in treating specific kinds of painwho understands muscle and bone disorders.
canada goose sale Not until the 1970s, when the Metropolitan Museum of Art in New York paid more than $1 million for a single vase, was Greek pottery elevated to high art. So when exactly did these clay pots become works of genius? We like to think they always were, and that only later did we "discover" their genius. That's one way of looking at it.
'In a television episode, you will normally give strong stories to four or five characters and the others will simply participate in one of them. The following week a different four or five will get their stories and the rest of the cast will support them. In a film everyone must have their tale to tell and all of them must be resolved, which meant quite a bit of plaiting,' he explains..
I think mainly because I realize now a lot of the things she was going through, and how shitty I was with her to begin with. Teen angst is a bitch. My relationship with both of my parents has improved dramatically since I moved to Rhode Island. Ed Kingsley: Cancer care under fire Mah jongg fans ready to hit the tiles Ralph Siraco's selections for Wednesday's races at Del Mar Wednesday's horse racing entries Staying Power Community news briefs for August 26, 2003 Binoculars can bring details of Mars surface to LV yards Firefighters, paramedics getting an update on treating trauma injuries Columnist Susan Snyder: Giving it the old college try Monday, Aug. 25 Stratosphere execs eye new features for resort Some high end cars require high octane gasoline Oregon senators move to expand gambling Nevada hospital profits drop 26 percent Misting systems take edge off summer heat Gaming news briefs for August 25, 2003 Five hospitals sold Retailer's profit soars Gas prices keep rising in Las Vegas, nationwide Arrest made in tanning video case Subcritical nuclear test scheduled in 2004 Pair arrested in stabbing death News briefs for August 25, 2003 Driver arrested in pedestrian's death Panel to report on the state of civil rights Nine teens charged in attack on three others New, improved schools open Flood's effects linger for some Las Vegans Gibbons won't run for Senate Council aims to reduce golf course budget LV to rebuild park lost to 95 widening Applebee's death believed a homicide Ashcroft will visit Las Vegas to pitch Patriot Act Births Simulated plague spreads during second week Letter: President brings sense of decency Letter: Bush has done so much damage Letter: Doing nothing for homeless is not working Obituaries for August 25, 2003 Editorial: Growing schools are our responsibility Editorial: Bush policy is hurting AmeriCorps Gladiators have eye on replacement QB Utah's new coach eyes an air attack Passing fancy Victory provides emotional end to Busch's week Man of Troy Rebels building tradition Columnist Ralph Siraco: Horse, jockey dialed in for Pacific win Rocky Mountain low: Rams Buffs in jeopardy Seeing Red Mars Missions Red Planet close up Benatar piqued by new wave at Mandalay Bay Columnist Susan Snyder: Grandparents won't give up custody fight Columnist Lisa Ferguson: Sun Lite for Aug. 25, 2003 Saturday, Aug.
In the beginning of 2016 in the centre of Eindhoven, a new generation of intelligent street furniture will be installed: Citybeacons. The approximately four-meter high 'City beacons; connect security, information and communication via an intelligent platform with the residents, visitors and businesses of the city. The Citybeacons will be a replacement of the advertising information display units (mupi's) that stood in the centre until a few years ago.
With the arrival of 15-25 Citybeacons in the city centre of Eindhoven, residents, visitors and businesses will get access via the digital platform to a number of digital and interactive functionalities.
The idea for Citybeacon comes from the current proliferation in the physical infrastructure of a city. In every city there are cameras, billboards, road signs, antennas, ad space and video screens. The different functions of these facilities are brought together by the placement of the Citybeacons. Citybeacons deliver functionalities in the areas of security, communication and information:
A digital screen at eye level with:
Interactive maps with city information and routing
City promotion
Event info
Social media
Interaction: through the post and via smartphone
Digital note board
Two digital screens (approximately 3 meters):
Advertising (exploitation by City Beacon)
City marketing (events)
Amber Alerts
General features of the Citybeacon:
A strong wifi mast
Observation cameras:
Crowd control
CCTV
Measurements of passers numbers
Environmental measurements (eg air quality)
Streetlights
The City Beacon is developed by a new Dutch start-up. The founder of this company, Mr. Arthur van de Poll, took part in the tender of the city of New York for the replacement of 10,000 public telephones (2012). Although Citybeacon did not win, the product is developed and prepared for a major (inter) national introduction. The initiative in the Netherlands for this project came from the city marketing organization Eindhoven365. The manager of Eindhoven365 calls it "a communication asset to the city, a unique opportunity to discover the city in an intelligent way."
The Citybeacons will be placed (depending on the permits and infrastructure available) from the beginning of 2016 at different locations in Eindhoven city centre.
The Citybeacon platform is also open to external parties. Cities can share relevant city information. Citybeacons generate user data such as air quality, traffic, social media data and for instance visitor numbers. The platform offers social features such as sending (public) messages facilitating a city tour or various game elements that relate to an event.
Citybeacon reports that after Eindhoven several (inter)national cities will follow. Each city can choose which functionalities should be operational. The platform acts as a distribution point for collaboration with content providers and creative community that can respond to the opportunities and possibilities of this city landmark.