Bus shelters with air-conditioning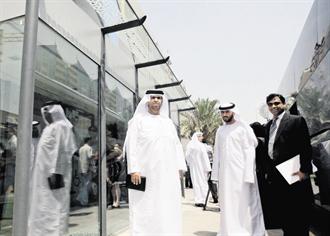 Abu Dhabi has installed 20 air-conditioned bus shelters in Abu Dhabi. This is only the first phase in the bus stops project, as the Department promised to deliver, throughout the Abu Dhabi emirate, 80 such shelters by the end of September 2009 and 550 by 2011, all at the cost of Dh100 million.
The new shelters are fully enclosed, with front glass panels and fully insulated, double sided back panels, able to retain the cool air. A push button opens the sliding doors from outside and, from inside, a sensor allows automatic opening and closing. There are eight, fairly large stainless steel seats, as well as a space for one wheelchair. A city map showing the bus network and listing bus timetable and points of interest in the area is displayed inside the shelter, along with signs for no smoking and no eating or drinking.
CCTV cameras are being fixed, to make sure no one abuses the shelters.
The programmed air-conditioning is working 18 hours per day, for as long as the bus is in service. The energy consumption is going to be very low, a maximum of 14 kilowatts per hour being allowed per unit, although less that is expected to be used for each shelter. It is considered using solar power for the shelters, and even bringing in electrical buses, but these eco-friendly measures are still being studied.
The first 20 shelters are mostly located at bus stops near hospitals and schools, to help, first of all, mothers and children.
The installation of the bus shelters is part of the implementation of the Surface Transport Master Plan, which has been developed to support Abu Dhabi's environmental, economic and cultural goals outlined in Plan Abu Dhabi 2030.
« MIT designing futuristic bus stops with integrated digital signage | Home | New study: Digital Billboards Are Safe »