Solar-powered bus shelter made from recycled glass bottles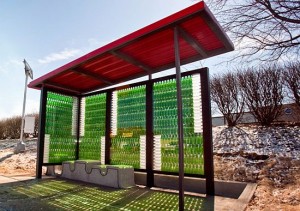 We've seen glass bottles being recycled to make houses and even temples. Eco-minded artist Aaron Scales has his hands on bottle recycling and has come up with a sustainable bus shelter that has been constructed from soft drink bottles.
Designed for a national design competition, the Bottlestop project makes use of recycled green bottles of Kentucky soft drink Ale-8-One to integrate art, architecture and advertising into a new public transit concept.
LED lighting is engineered to illuminate the clear bottles with solar energy collected by day, and a series of laser-etched bottles adorn the shelter with unique art. The "street furniture" bench rises from the ground plane to form differently sized seating options for diverse users, prevents sleeping, and continues outside of the shelter to house an integrated trash receptacle.
« New study: Digital Billboards Are Safe | Home | Outdoor spending per capita »