Wonderbra: 3D billboard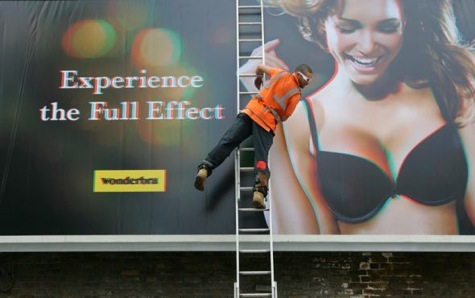 Wonderbra in the UK has unveiled its first 3D billboard poster that marks the launch of an integrated campaign by iris to promote its new 'Full effect' bra. The 48-sheet poster kick starts a range of brand engagement initiatives to span digital, experiential, media partnerships and PR, which will work together to put the brand directly in touch with its female target audience. The poster, at Waterloo Road London, features a model wearing the bra and can be viewed with specially designed 3D glasses in the shape of the bra. The guerrilla stunt was created by iris to generate buzz around the new bra, which can boost busts by up to two-cup sizes.
The campaign, called 'Full effect your life', will see Wonderbra give three girls the opportunity to win one of three life-enriching experiences**: Become a fashion journalist with a week's internship at Cosmopolitan.co.uk; discover the secrets of a fashion stylist by shadowing Grace Woodward of 'Britain's Next Top Model'; or delve into the mind of a fashion buyer on a trip to Paris with leading vintage site WeLoveVintage. An online and PR campaign kick off the nationwide competition today, with an exclusive feature in The Sun including a giveaway of the limited edition 'Full effect' 3D glasses, as well as social media content to go live on Facebook and Twitter. All activity will drive traffic to the campaign's dedicated competition website within www.wonderbra.co.uk, created by iris. The site was sourced by MPG.
The commercial titled 3D billboard was done for WONDERBRA (WONDERBRA company) in United Kingdom. It was released in the September 2010. Business sector is Clothing & footwear.
source: www.coloribus.com
« Tenders planned for Amsterdam outdoor advertising products | Home | Sao Paolo advertising goes underground »