The future of outdoor
This article is a reprint from Mediaweek, author: Stephen Armstrong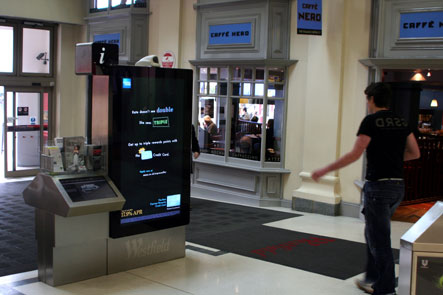 Posters that can recognise your face and live video streaming on car windows are just two of the technologies transforming out-of-home into the most targeted advertising medium in town.
If you're working in the out-of-home industry it can feel a bit as though all the other media are getting the fun new tech stuff – 3D interactive TV, smartphone apps or, indeed, anything Steve Jobs turns his poloneck-supported mind to.
So it has been something of a relief to outdoor practitioners that the Israeli defence industry moves its new gadgets from the military to the commercial sector every now and then.
Take face recognition software, for instance – originally designed to identify terror suspects, it has been creeping into digital posters, initially as a research tool but with the potential to create almost individually targeted creative work.
And face recognition is just the tip of the new tech iceberg when it comes to outdoor innovation – live video, augmented reality, live tweeting, interactive gaming and 3D posters are all rolling out across the high street and the shopping malls. There is even an iPhone opportunity.
"Advertising is increasingly about the personal – interactive TV, online tailored messages – and outdoor is traditionally a broadcast medium," explains Ivan Clark, independent outdoor specialist and blogger.
"What you're seeing with these new technologies – although they won't hit the mainstream for a while – is the chance for outdoor to become as tailored as almost any other medium."
Clark points to a campaign for Becks that Starcom booked in niche, hip districts of London like Hoxton and Brixton (see gallery). Passers-by could plug their iPod into the intelligent digital screens, and software developed by Outsideline produced an artwork in response to the music, which was then sent to Twitter and Flickr sites where the image could be downloaded.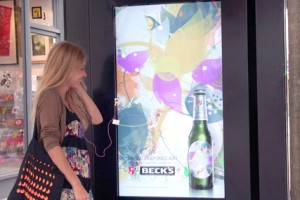 Over two weeks, there were 10,000 interactions with the digital posters, 2,500 people accessed the Flickr images and Shoreditch scenesters were even forming queues to use the posters outside some sites.
Pip Hainsworth, marketing director for Clear Channel in the UK, was struck by an election campaign in support of the Conservative Party – galvanised by a group of volunteers led by Engine and WCRS president Robin Wight – where Twitter comments were fed live onto LED screens for minute-by-minute commentary on the issues of the day.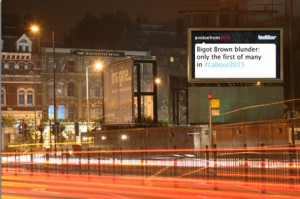 Another groundbreaking piece of advertising was the world's first 3D outdoor campaign from Twentieth Century Fox for the film Percy Jackson and the Lightning Thief, where a bespoke trailer ran on 42″ HD screens installed in bus shelters on Oxford Street and in Kensington.
Cameron Saunders, UK marketing director for the theatrical division of Twentieth Century Fox, says: "In the past 18 months, digital outdoor has moved on in leaps and bounds. In a world where consumers are being bombarded with competing messages, this is something no-one could fail to be absorbed by."
Never forget a face
Hainsworth is currently expanding on recent research using face recognition technology, run jointly with Kinetic. The first run of the research – conducted earlier this year – placed cameras behind posters in the Westfield Royal Victoria Place shopping mall in Tunbridge Wells and measured how often consumers checked out the poster, what age and sex they were and what mood they were in, based on how happy or sad they looked.
The study found that shoppers were more relaxed – and thus more disposed to view advertising – at the weekend. The highest levels of eye-contact took place on Sunday lunchtime, while the group most likely to check the poster out were younger passers-by and women.
"This was a research project, but it could lead to a change in creative execution," says Kinetic's global marketing director Nick Mawditt. "We have the software and the connections to enable us to change execution centrally very quickly.
"It is theoretically possible to spot crowd changes – for example greater numbers of women or teenagers – and instantly alter your creative as a result. You can certainly already change executions according to daypart and consumer mood, which means highly responsive advertising."
In other words, digital posters could soon be able to change to suit your tastes. The poster might be able to alter its shape or size to draw you in, it could feature holographic imagery, or you might be able to browse a drop-down menu on the side of the screen and send details such as a money-off coupon to your Facebook account.
And in the rare instance where passers-by aren't attracted to the poster, the digital cameras that measure footfall and dwell-time minute by minute can simply change copy at the flick of a switch.
Matching media to mood
Over in Israel, where face-recognition began, Dani Zeevi, co-founder and chief executive of YCD Multimedia is already going further. The company offers services ranging from tracking to creative solutions that follow consumers from outside the store to point-of-sale.
In fast-food joints, for instance, cameras track queues of consumers and software matches daypart to mood and menu, so digital screens offering price and choice can change almost minute by minute.
"Retailers want to keep queues down and customers happy," Zeevi explains. "Our algorithms allow them to offer the most popular items at the right time with changes in price according to offers and mood.
"We've worked with Toyota, Wimpy and fashion chains to cover the link from brand advertising to the till. The UK is lagging a little behind other parts of the world, but as the recession ends we can see that changing."
Some, however, believe it's not just the recession that's keeping the industry cautious. James Davies, director of Posterscope's future-facing division Hyperspace, says: "There are so many technological developments that can be applied to OOH campaigns and these are evolving so quickly it's difficult for media owners to make investment choices with confidence.
"Also, clients often want technology applied to locations of their choice, as opposed to those that have been predetermined by media owners."
Davies recently collaborated with digital agency Profero on the launch of the new Mini Countryman (see gallery), where video footage of passers-by was projected onto the inside of the car, as if they were squeezed inside the vehicle, and the results shared on Facebook.
He is also enthusiastic about new applications from areas such as architecture and public art. For example, he cites the "emotional cities" art project where buildings are lit in different colours depending on the "mood of the city", as measured by prevailing online activity, and the Tesla coils used to create artificial lightning bolts at Glastonbury.
However, he warns: "It's easy to get carried away with what's technically possible, but agencies should always ensure the consumer is the core consideration. For example, one of the reasons that QR codes – barcodes that when photographed open a mobile website – didn't become mainstream years ago is that most campaigns didn't include a suitable consumer education element. Indoor or outdoor, you have to start with the consumer."
'Out there' outdoor: five next-generation advertising formats
Augmented reality screens embedded into poster sites, as offered by JCDecaux.
An augmented outdoor mobile app that overlays hidden content and reward onto poster sites when viewed through a camera phone, as offered by Posterscope and The Cloud and Compass.
Moderated live streaming from Twitter and Facebook to OOH screens (campaign for AT&T in location and Facebook page below), as offered by LocaModa (based in the US).
Clic2C technology, as demonstrated by CBS Outdoor, that allows any printed poster to become interactive by opening a free phone application that works on most handsets including iPhone, Android, BlackBerry and Nokia. By pointing the phone's camera at the poster, consumers are automatically linked to a mobile website.

Magic Mirror screens in-store that allow shoppers to see what they would look like 'wearing' various items of clothing from the rack, reducing changing-room space and time, as offered by C-InStore.
« Sao Paolo advertising goes underground | Home | The green case against digital billboards »