Clear Channel strengthens position in the Netherlands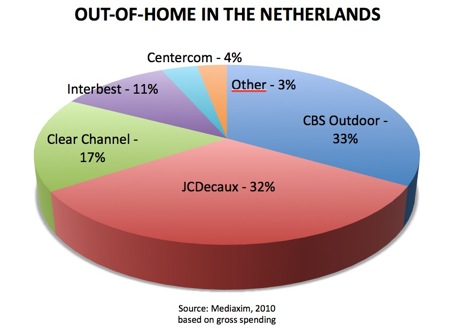 Outdoor Advertising operator Hillenaar Outdoor Advertising (a Clear Channel company) has taken over all outdoor objects of Brouwer & Partners (local Dutch company). Hillenaar now has reach in 250 citiesand is thus at once a key player in the out-of-home market. "We are very proud," says director Jeroen Hillenaar. "The doubling of our number of panels makes us the largest operator in terms of reach and our Abri's generate the highest contact frequency."
The acquisition provides Hillenaar national coverage and can better meet the needs of advertisers. "In addition to our current presence in eg Amsterdam, The Hague, Emmen and Parkstad Limburg, we are now prominent in Eindhoven, Den Bosch and Zaanstad" explains Hillenaar.
According to data from MediaXim (gross advertising expenditure by the parties participating in the Outdoor Advertising Platform) market share is 17% of the new combination. In the market of bus shelters, the share is even greater.
The new combination achieves the Dutch market for the main segment, the shelters, a 21% market share. Thus, the company remains well behind CBS Outdoor and JCDecaux, but it will be an interesting proposition for media planners can offer. CBS Outdoor will remain strong through its exclusive relationship with NS and a wide rural area, JCDecaux is and remains the market leader through exclusive relationships with most major cities.
There are currently two key contracts that market shares do change (or unchanged): Amsterdam (very soon to clarify this) and Haaglanden (this tender is at present).
« Amsterdam City Council has started tender for bus shelter contract | Home | 15 Largest Outdoor Advertising Groups »