15 Largest Outdoor Advertising Groups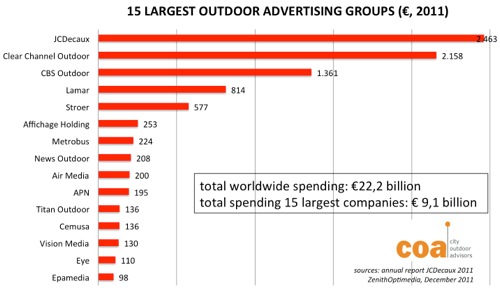 The annual report from JCDecaux shows a clear overview of the 15 largest outdoor advertising groups, based on their 2011 revenues.
According to ZenithOptimedia total worldwide outdoor advertising spending was approximately €22,2 billion. The 15 largest companies have 40% share in total spending, which means that there are many companies with revenues less than €100 million.
The total worldwide advertising spending was estimated at €326 billion. This means that OOH has a share of 6,8% in the total spending.
« Clear Channel strengthens position in the Netherlands | Home | Digital billboards & traffic safety »