Digital billboards & traffic safety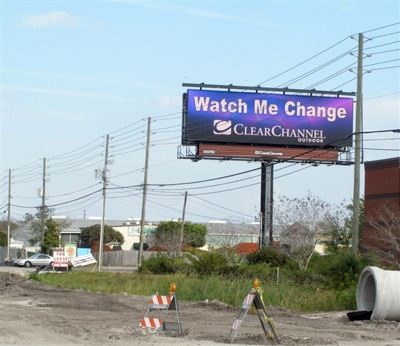 For many years the debate is going on about the effects of digital billboards on traffic safety. At this moment two studies claim opposite opinions. A good reason to look into this matter. It will become clear that (as always) research funded by the industry is not supported by the views from anti-billboards organizations (e.g. Scenic America).
SWEDISH RESEARCH: digital billboards distract drivers
(sources: Traffic Injury Prevention and Occupational Health & Safety)
A study by Virginia Tech for NHTSA (2006) found anything that takes a driver's eyes off the road for more than two seconds greatly increases the risk of a crash. That study found nearly 80 percent of all crashes involve driver inattention within three seconds of the crash.
Swedish and German researchers have published (January 2013) a study in the journal Traffic Injury Prevention in which they found digital billboards attract and hold drivers' gazes longer than a threshold that previous studies have shown to be dangerous. The study found that drivers looked at these colorful, rapidly changing billboards significantly longer than they do at other signs on the same stretch of road – the digital versions often took a driver's eyes off the road for more than two seconds.
"Bright, constantly changing signs on the side of the road are meant to attract and keep the attention of drivers, and this study confirms that is exactly what they do," said Mary Tracy, president of Scenic America, a Washington, D.C. nonprofit organization advocating for preserving the visual character of America's communities and countryside. "This study validates what is common sense when it comes to digital billboards".
Method: a total of 41 drivers were recruited to drive an instrumented vehicle passing 4 of the electronic billboards during day and night conditions. A driver was considered visually distracted when looking at a billboard continuously for more than 2 seconds or if the driver looked away form the road for a high percentage of time. Dependent variables were eye-tracking measures and driving performance measures.
Results: the visual behavior showed that drivers had a significantly longer dwell time, a greater number of fixations, and longer maximum fixation duration when driving past an electronic billboard compared to other signs on the same road stretches. No differences were found for the factors day/night, and no effect was found for the driving behavior data.
Conclusion: electronic billboards haven an effect on gaze behavior by attracting more and longer glances than regular traffic signs. Whether the electronic billboards attract too much attention and constitute a traffic safety hazard cannot be answered conclusively based on the present data.
USA RESEARCH: digital billboards do not distract drivers
(sources: DAILYDOOH and The Hill)
A study released in January 2014 by the Federal Highway Administration (Department of Transportation /DOT) concluded that drivers are not more likely to be distracted by digital billboards than stationary signs. The study surveyed drivers in Richmond, Va., and Reading, Pa., and found that the average length of time drivers spent looking at digital billboards was 379 milliseconds, compared to 335 milliseconds for standard signs. Results were both well below the currently accepted threshold of 2,000 milliseconds, the study said.
On average, the drivers in this study devoted between 73% and 85% of their visual attention to the road ahead for both digital and standard billboards. This range is consistent with earlier field research studies. In the present study, the presence of digital billboards did not appear to be related to a decrease in looking toward the road ahead.
Nancy Fletcher, president of the Outdoor Advertising Association of America, translated this: "The longest glance in the direction of a digital billboard was 1.3 seconds, well below the safety threshold established in 2006 by the National Highway Traffic Safety Administration (NHTSA). The 2006 report from NHTSA said risk of accidents/near accidents increases with glances in excess of two seconds."
"The results did not provide evidence indicating that digital billboards were associated with unacceptably long glances away from the road," the new DOT study says. "When dwell times longer than the currently accepted threshold of 2,000 milliseconds occurred, the road ahead was still in the driver's field of view. This was the case for both digital billboards and standard billboards."
The results were (of course) welcomed by the OAAA, which has pushed the transportation department to relax its rules regarding digital billboards. "Studies have long shown that digital billboards do not cause distracted driving," the OAAA said in a statement. "The new federal study released on Dec. 30 comes to the same conclusion."
Discussion about the results of the FHWA/DOT study
(source: article by Myron Levin from FairWarning, NBCNews, January 15, 2014)
Today, of more than 400,000 billboards in the U.S., estimates of digital displays range from slightly more than 2,000 to as many as 3,200. The industry has been adding hundreds of the more-profitable signs each year. Billboard companies are moving aggressively to plant digital signs along U.S. highways and city streets. But debate persists on whether the eye-grabbing displays, which typically change messages every 6 to 8 seconds, pose a risk to traffic safety.
According to records obtained by FairWarning under the Freedom of Information Act, expert reviewers have told the FHWA that the study appears to have been botched. The key findings vary so wildly from previous research that, as one reviewer put it, they "are not plausible."
Combatants in the billboard wars – including local and state officials under industry pressure to permit more of the lucrative signs – are eager for a study by the Federal Highway Administration (FHWA). They have hoped that the much-anticipated study, launched in 2007, would help clarify some key safety questions.
Yet the politically sensitive research, which was supposed to have been wrapped up in 2009, remains cloaked in mystery. All the FHWA has said, time after time, is that the study is under review.
Almost impossible
In the FHWA study, recorded glances were so brief that none came close to 2 seconds or even 1.6 seconds. Only about 1 percent were above three-quarters of a second. In fact, the average was slightly below one-tenth of a second – a number both expert reviewers considered almost impossible.
"The reported glances to billboards here are on the order of 10-times shorter than values reported elsewhere," one reviewer wrote. "The pattern of results certainly raises questions over the quality and legitimacy of the underlying data.'' The other said, "The data reported as average glance durations are not plausible." Two other experts contacted by FairWarning confirmed that the data was highly suspect.
Alison Smiley, president of Human Factors North, Inc., in Toronto, said the glance times were "extremely short'' and substantially at odds with her own studies.
Paul A. Green, a research professor at the University of Michigan Transportation Institute, said glances so brief would mean the drivers "never really looked'' at the billboards. "It's a flaw in the data," Green said. "You wonder, if they made this mistake did they make other mistakes?"
« 15 Largest Outdoor Advertising Groups | Home | Pay phones will become Wi-Fi hubs (NYC) »