Billboards will be removed in Rotterdam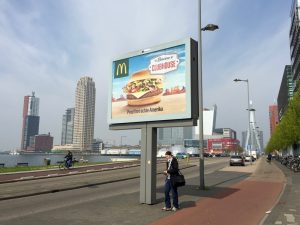 The year 2016 will be remembered as a commercial good year in the Dutch OOH industry. The growth of advertising euro/2m2 format continues and digital developments are going faster than ever. Yet there is a dissonance: THE BILLBOARDS. In recent years, the turnover of this medium has already dropped dramatically, also resulting in a dramatic decrease in interest to exploit these objects.
In 2015 billboards were removed from the city The Hague. One of the largest operators of billboards, Exterion Media, will remove all billboards from Rotterdam by the end of 2016. In recent years, the number of billboards has been greatly reduced (from 85 to 40), but the last 40 will now disappear completely.
The reasons for the decline in the billboard market are diverse:
Until the crisis of 2008/2009 were the largest advertisers automotive and financials; these advertisers have greatly reduced their spending and it proved very difficult to find alternative advertisers
the success of advertising on the size 2m2, with the portrait format fits existing digital communications
advertisers want to sit closer to the point-of-sale (and billboards are still there usually further from)
Although the outdoor research shows that billboards score well (big impact with high range), it appears that emotional considerations also play a large role in the choice of media.
Only a few digital billboards are placed in the Netherlands at this moment. Operators and advertisers are enthusiastic, so we expect that a conversion will take place in the coming years from analogue to digital.
« Hi-tech Citybeacons will give Eindhoven digital lead in street furniture | Home | Utrecht covers 300 bus shelters with green roofs »