Blog
2019 is almost over, so it is a good opportunity to name a number of important events in our field. For those who don't read the entire article: we wish you happy holidays and a healthy and successful new outdoor advertising year.
Media spending continues to rise
Although there are no figures yet for media spending in 2019, we have the strong impression that 2019 was a particularly good year for most operators. The economy continued to grow and outdoor advertising grew with it. The share of 2m2 advertising ("abri advertising") remains high (around 60% of all spending), but advertising towers also remain an important medium in the Netherlands.
Digital in top gear
Where other media still suffer from online spending, OOH can benefit from the rapid growth of digital objects. Along motorways, but also in cities, we see more and more digital advertising forms. Every place where many people come and / or stay for a longer time has become hubs full of screens. Advertisers can therefore use outdoor advertising better and more targeted.
In Amsterdam CS Digital Media provided two metro lines with high-quality digital screens, JCDecaux is busy building up the digital screens in Rotterdam and The Hague and Clear Channel (together with RBL Outdoor) has provided Utrecht with various larger and smaller digital screens.
Along motorways, analogue advertising masts are still being converted to LEDs, smaller municipalities are being given digital information signs along approach roads and even pylon advertising is now partly done digitally in Rotterdam, Utrecht and Amsterdam.
Regulations under development
The growth of digital also requires better regulation. With regard to light intensity, most municipalities apply the NSVV policy (national light institute). Discussions are being held about allowing moving images and animation. Amsterdam has even banned the use of moving images, precisely to create tranquillity in public spaces. In most cities, however, moving images are permitted in pedestrian areas.
Operators, media agencies and advertisers have written a nice and clear position paper about digital out-of-home through the IAB. But there is still no clear connection with regulations from the government / municipalities. Here we can still explore and gain ground.
Sedum sedum and even more green roofs
The placement of bus shelters in Utrecht with sedum was initially without much attention, but after publications in international newspapers and insta-posts of influencers (Doutzen Kroes e.g.) it turned out to have been a golden hold. Bees have been given a house in the city, the busshelter turned out to be a means to show sustainability and citizens are happy with a green roof. Utrecht was overwhelmed with national and international attention (recently even received a prize). Many municipalities now also want sedum in the bus shelters. The shelters in the cities Nieuwegein and Gouda and province of Utrecht will soon be provided with green roofs and we expect that many more cities will follow.
Analog billboards are being replaced by digital 6.5 m2 LED screens
Outdoor advertising operators have suffered large losses on analogue billboards for years. Advertisers left the medium, but contracts with high payments continued for years. Most contracts have since expired. We are now cautiously seeing growth again in billboards. But then in a digital form and usually standing ("portrait"). Operators can also easily place campaigns in the 2m2 format. We expect that more and more cities will get this type of objects. They are already in Rotterdam, The Hague, Utrecht, Amsterdam, and will be installed in Ede, Almelo and Diemen next year.
Growth and consolidation among operators
We sometimes say never a dull moment in operator country at NABBNET. We find the rapid growth of Hillenaar Outdoor striking. Jeroen Hillenaar and colleagues started again a few years after their departure from Clear Channel (that they originally started) and have since built up a substantial position. Suurland Outdoor has been sold to a private investor and Centercom has purchased a digital operator of billboards (company 'Bereik'). Exterion Media bought the tank network of MMD Media.
The most important and largest acquisition took place by the English company Ocean Outdoor. This digital giant simultaneously bought Interbest Advertising Masts and Ngage Media. We estimate that this company, after Exterion Media and JCDecaux, has since taken over the third place from Clear Channel (in terms of turnover).
Dutch Railways loses court case
Many years ago JCDecaux started proceedings against the Dutch Railways, because the European rules for public procurement would not have been followed. After years of proceedings, the Court ruled in favour of JCDecaux on the most important points. In other words, the NS should have tendered. The court ruling has major consequences: from 1 December all advertising displays at the stations will be "empty". That means white boxes in the analogue display cases and the digital advertising display cases are black, which means that the current operator (Exterion Media) is no longer allowed to sell this attractive medium for advertisers.
Sad loss of a few important outdoor advertising people
We unexpectedly lost three men this year: René Bubberman, designer of a particularly large number of shelters, Jan Wichers, co-owner of Hillenaar Outdoor and Michael Hoffman, owner of Hoffman Outdoor Media.

Mainly made up of sedum plants, a total of 316 bus shelters have been covered in greenery in Utrecht. The bus shelters not only support the city's biodiversity, such as honey bees and bumblebees, but they also help capture fine dust and store rainwater.
In 2018 the contract with JCDecaux ended and after a tender (City Outdoor Advisors acted as consultant) the new contract was awarded to RBL Outdoor. This Dutch outdoor company delivers high quality street furniture to various cities in the Netherlands in a joint effort with Clear Channel (this companies is responsible for advertising sales). In total approximately 500 new bus shelters have been installed. Part of the contract are also >150 free standing 6-sheet units (including more than 20 digital units) and 10 digital billboards.
RBL Outdoor has fitted its 316 bus stops in Utrecht — Holland's fourth-largest city— with succulent-covered roofs, LED lighting, and bamboo benches. The green roofs are mainly composed of sedum plants, which require little maintenance. The roofs (of course also the rest of the bus shelters and advertising panels) are looked after by workers who drive around in electric vehicles.
The project has got attention from news media and cities around the world. Especially the attention for the bees became an interesting selling point.
The green bus stops are just one measure that Utrecht is taking to combat climate change. They've also pledged to have completely carbon-neutral transport by 2028 and they'll introduce 55 electric buses into their fleet by the end of 2019. The province has also invested heavily in the repair of cycling paths and will conduct an innovative experiment in 2020. Solar panels installed along cycling paths within the province will be used to harvest energy, with an aim to see if the results merit expansion of the program.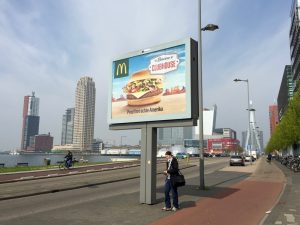 The year 2016 will be remembered as a commercial good year in the Dutch OOH industry. The growth of advertising euro/2m2 format continues and digital developments are going faster than ever. Yet there is a dissonance: THE BILLBOARDS. In recent years, the turnover of this medium has already dropped dramatically, also resulting in a dramatic decrease in interest to exploit these objects.
In 2015 billboards were removed from the city The Hague. One of the largest operators of billboards, Exterion Media, will remove all billboards from Rotterdam by the end of 2016. In recent years, the number of billboards has been greatly reduced (from 85 to 40), but the last 40 will now disappear completely.
The reasons for the decline in the billboard market are diverse:
Until the crisis of 2008/2009 were the largest advertisers automotive and financials; these advertisers have greatly reduced their spending and it proved very difficult to find alternative advertisers
the success of advertising on the size 2m2, with the portrait format fits existing digital communications
advertisers want to sit closer to the point-of-sale (and billboards are still there usually further from)
Although the outdoor research shows that billboards score well (big impact with high range), it appears that emotional considerations also play a large role in the choice of media.
Only a few digital billboards are placed in the Netherlands at this moment. Operators and advertisers are enthusiastic, so we expect that a conversion will take place in the coming years from analogue to digital.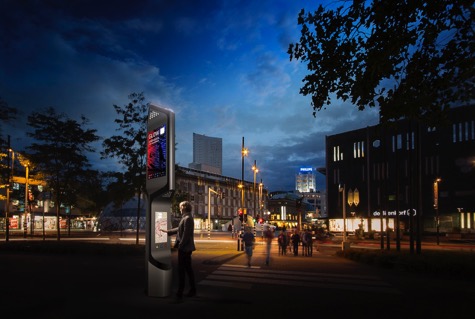 In the beginning of 2016 in the centre of Eindhoven, a new generation of intelligent street furniture will be installed: Citybeacons. The approximately four-meter high 'City beacons; connect security, information and communication via an intelligent platform with the residents, visitors and businesses of the city. The Citybeacons will be a replacement of the advertising information display units (mupi's) that stood in the centre until a few years ago.
With the arrival of 15-25 Citybeacons in the city centre of Eindhoven, residents, visitors and businesses will get access via the digital platform to a number of digital and interactive functionalities.
The idea for Citybeacon comes from the current proliferation in the physical infrastructure of a city. In every city there are cameras, billboards, road signs, antennas, ad space and video screens. The different functions of these facilities are brought together by the placement of the Citybeacons. Citybeacons deliver functionalities in the areas of security, communication and information:
A digital screen at eye level with:
Interactive maps with city information and routing
City promotion
Event info
Social media
Interaction: through the post and via smartphone
Digital note board
Two digital screens (approximately 3 meters):
Advertising (exploitation by City Beacon)
City marketing (events)
Amber Alerts
General features of the Citybeacon:
A strong wifi mast
Observation cameras:
Crowd control
CCTV
Measurements of passers numbers
Environmental measurements (eg air quality)
Streetlights
The City Beacon is developed by a new Dutch start-up. The founder of this company, Mr. Arthur van de Poll, took part in the tender of the city of New York for the replacement of 10,000 public telephones (2012). Although Citybeacon did not win, the product is developed and prepared for a major (inter) national introduction. The initiative in the Netherlands for this project came from the city marketing organization Eindhoven365. The manager of Eindhoven365 calls it "a communication asset to the city, a unique opportunity to discover the city in an intelligent way."
The Citybeacons will be placed (depending on the permits and infrastructure available) from the beginning of 2016 at different locations in Eindhoven city centre.
The Citybeacon platform is also open to external parties. Cities can share relevant city information. Citybeacons generate user data such as air quality, traffic, social media data and for instance visitor numbers. The platform offers social features such as sending (public) messages facilitating a city tour or various game elements that relate to an event.
Citybeacon reports that after Eindhoven several (inter)national cities will follow. Each city can choose which functionalities should be operational. The platform acts as a distribution point for collaboration with content providers and creative community that can respond to the opportunities and possibilities of this city landmark.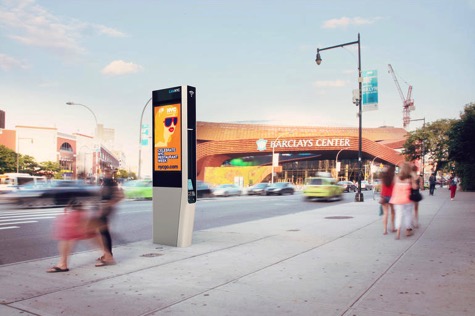 New York City plans to turn its lowly public payphone network into what it claims will be the biggest and fastest free municipal Wi-Fi network in the world. City leaders revealed the $200 million plan, called LinkNYC, on Monday at City Hall. The project will replace the Big Apple's thousands of payphone installations with thin, sleek, 9.5-foot-tall hubs providing unlimited Internet access at super-high speeds of up to 1 gigabit per second.
A consortium called CityBridge won the bid to develop the project, though several city boards now need to approve the plan before construction can start. The group includes mobile chipmaker Qualcomm, which will help with connection technology, and outdoor advertiser Titan, which already has the largest contract in the city for maintaining and advertising on city payphones. Titan will be charged with turning some 9,000 aging and largely irrelevant pay phones into 10,000 'public communications structures,' complete with Wi-Fi and digital advertising screens.
"This is going to be a critical step towards more access," said Maya Wiley, counsel to Mayor Bill de Blasio, who added that the hubs will be important for lower-income New Yorkers, who rely especially on mobile signals to connect with city services and the Internet.
LinkNYC comes despite a mixed history of municipal Wi-Fi projects, with cities including New York, Philadelphia and dozens others throughout the US trying — and failing — to create and sustain such services. Cities have claimed these kinds of projects can help spur economic activity and narrow the digital divide between those who can access the Internet and those who can't. Yet many of these projects were scraped or scaled back over the years after cities and developers butt up against financial, competitive and technical challenges. Several current municipal Wi-Fi networks are available only in downtown areas and for a few hours a day for users.
"LinkNYC will fundamentally transform New York City and set the standard for responsive cities for years to come," said Colin O'Donnell, chief operating officer of Control Group, a member of CityBridge.
The first 500 CityBridge sites will be available by late 2015 to early 2016, with the construction expected to go on for six years. The contract would last for 15 years.
Mayor Bill de Blasio called the "LinkNYC" system "the fastest and largest municipal WiFi network in the world."
Up to 10,000 terminals will provide free Internet access up to 150 feet (45 meters) from hubs, which will be phased in across the city's five boroughs beginning in 2015.
Free domestic phone calls can also be made from the stations, which feature a touch-screen interface, a cell phone and tablet charging station, and provide access to emergency services.
Digital advertising displays will finance the project "at no cost to taxpayers," de Blasio said, adding that the hubs are expected to generate more than $500 million over the course of their first 12 years and create 100 to 150 jobs. "We're taking a critical step toward a more equal, open and connected city — for every New Yorker, in every borough," de Blasio said. CityBridge will share 50 percent of all its revenues with the city, and will provide minimum payments starting at $20 million annually regardless of sales. Comparatively, the payphone network in the latest fiscal year brought in about $16.5 million to city coffers.