Pay phones will become Wi-Fi hubs (NYC)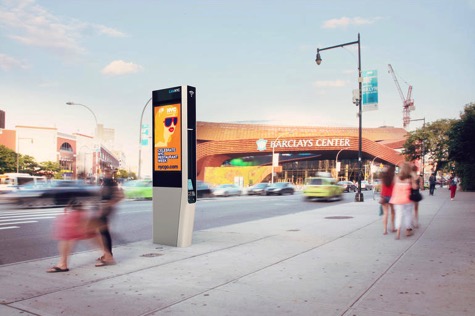 New York City plans to turn its lowly public payphone network into what it claims will be the biggest and fastest free municipal Wi-Fi network in the world. City leaders revealed the $200 million plan, called LinkNYC, on Monday at City Hall. The project will replace the Big Apple's thousands of payphone installations with thin, sleek, 9.5-foot-tall hubs providing unlimited Internet access at super-high speeds of up to 1 gigabit per second.
A consortium called CityBridge won the bid to develop the project, though several city boards now need to approve the plan before construction can start. The group includes mobile chipmaker Qualcomm, which will help with connection technology, and outdoor advertiser Titan, which already has the largest contract in the city for maintaining and advertising on city payphones. Titan will be charged with turning some 9,000 aging and largely irrelevant pay phones into 10,000 'public communications structures,' complete with Wi-Fi and digital advertising screens.
"This is going to be a critical step towards more access," said Maya Wiley, counsel to Mayor Bill de Blasio, who added that the hubs will be important for lower-income New Yorkers, who rely especially on mobile signals to connect with city services and the Internet.
LinkNYC comes despite a mixed history of municipal Wi-Fi projects, with cities including New York, Philadelphia and dozens others throughout the US trying — and failing — to create and sustain such services. Cities have claimed these kinds of projects can help spur economic activity and narrow the digital divide between those who can access the Internet and those who can't. Yet many of these projects were scraped or scaled back over the years after cities and developers butt up against financial, competitive and technical challenges. Several current municipal Wi-Fi networks are available only in downtown areas and for a few hours a day for users.
"LinkNYC will fundamentally transform New York City and set the standard for responsive cities for years to come," said Colin O'Donnell, chief operating officer of Control Group, a member of CityBridge.
The first 500 CityBridge sites will be available by late 2015 to early 2016, with the construction expected to go on for six years. The contract would last for 15 years.
Mayor Bill de Blasio called the "LinkNYC" system "the fastest and largest municipal WiFi network in the world."
Up to 10,000 terminals will provide free Internet access up to 150 feet (45 meters) from hubs, which will be phased in across the city's five boroughs beginning in 2015.
Free domestic phone calls can also be made from the stations, which feature a touch-screen interface, a cell phone and tablet charging station, and provide access to emergency services.
Digital advertising displays will finance the project "at no cost to taxpayers," de Blasio said, adding that the hubs are expected to generate more than $500 million over the course of their first 12 years and create 100 to 150 jobs. "We're taking a critical step toward a more equal, open and connected city — for every New Yorker, in every borough," de Blasio said. CityBridge will share 50 percent of all its revenues with the city, and will provide minimum payments starting at $20 million annually regardless of sales. Comparatively, the payphone network in the latest fiscal year brought in about $16.5 million to city coffers.
« Digital billboards & traffic safety | Home | Hi-tech Citybeacons will give Eindhoven digital lead in street furniture »