"There's probably no God"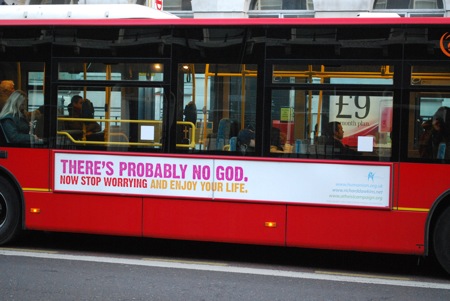 Outdoor advertising and religion; it is always a difficult trade-off. Due to the fact that the medium is 'always-on' and we can't zap it away, controversial messages always attract attention. That is why we hardly see advertising for Scientology for instance. Regular churches often use outdoor advertising, but a campaign from the British Humanist Association raised a lot of publicity (worldwide). A £140,000 atheist campaign on British buses and London Underground stating "There's Probably No God" is not in breach of the advertising code.
Sources: Daily Mail, Guardian
Despite receiving more than 300 complaints, the UK Advertising Standards Authority (ASA) concluded that the campaign did not contravene the code and it would therefore not launch an investigation. The authority said it had received 326 complaints about the campaign, some claiming it was offensive to people of faith and others challenging whether the advertisement was misleading. "The ASA Council concluded that the ad was an expression of the advertiser's opinion and that the claims in it were not capable of objective substantiation," a statement said. "Although the ASA acknowledges that the content of the ad would be at odds with the beliefs of many, it concluded that it was unlikely to mislead or to cause serious or widespread offence."
The campaign, with the slogan "There's probably no God. Now stop worrying and enjoy your life" was launched earlier this month following a fund-raising drive supported by the British Humanist Association. The money raised has been used to place posters on 200 bendy buses in London and 600 buses across England, Scotland and Wales as well as to pay for 1,000 advertisements on the London Underground. The campaign was prompted by a suggestion from comedy writer Ariane Sherine, who received support from the British Humanist Association (BHA) and atheist campaigner Richard Dawkins. Ms Sherine had objected to a set of Christian advertisements running on London buses in a piece written for the Guardian's The Comment Is Free in June.
Some Christian groups such as the Methodist Church said they backed the campaign as it would help people to think about God. But it also attracted complaints from Christians, some of whom claimed it breached ASA codes on substantiation and truthfulness. The slogan should read There Probably Is A God, they claimed. In Southampton, Christian bus driver Ron Heather walked out of a shift when faced with driving a bus carrying the slogan. He later agreed with managers that he would only drive a bus carrying the slogan if there were no others available.
Ms Sherine welcomed the ASA ruling. She said: "I think it is a great day for freedom of speech in Britain and amazing that the ASA have ruled that atheists are able to express our beliefs in this way and that we have this freedom. "I think it is very important that we are able to express our beliefs peacefully and in a positive way – which is what we have done."
« California Considers Bill To Ban Digital Billboards | Home | A very big client for Digital Out-of-Home »